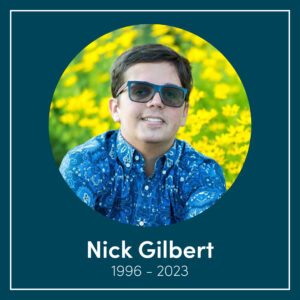 It is with a heavy heart that we mourn the passing of Nick Gilbert, son of Dan and Jennifer Gilbert.
Nick was someone who embodied eternal optimism despite the adversity he faced throughout his life. He will forever be regarded as someone with the kindness and grace of a true friend.
Nick was a pillar of strength throughout his 26 years of life – publicly sharing his story of neurofibromatosis (NF1) and giving a voice to the millions of people battling this disease worldwide. It is his strength that inspires us at the Gilbert Family Foundation to continue our fight against NF.
We offer our heartfelt condolences to the Gilbert family, while they mourn privately during this difficult time, as well as to Nick's friends and those whose lives he touched.
Those who would like to honor the memory of Nick Gilbert are asked to make a contribution to:
NF Forward
1074 Woodward Avenue
Detroit, MI 48226
(313) 373-3977
May his memory be a blessing.
Listen to the touching tribute song "Thank You Nick" written by Mike Young and performed by Sam Woolf.